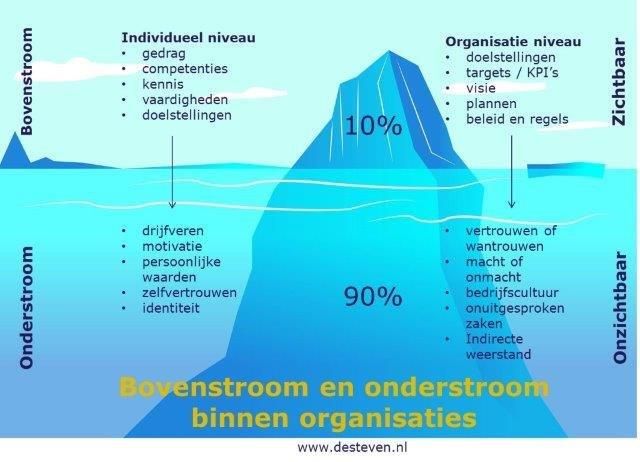 Boven- en Onderstroom in verandering
januari 12, 2022
We besteden in veranderingen in ons vakgebied ook vaak 80% van de tijd aan de 10% van de bovenstroom (of laat het eens 20% zijn, dat is misschien iets beter herkenbaar 😉
Eitherway, de onderstroom is moeilijk concreet te maken in modellen of technieken, laat staan dat je het kunt opleveren, dus waar besteden we dan onze tijd aan?
De kunst is niet om dit hulpmiddel concreet te maken, maar te gebruiken als onderwerpen van gesprek in de verandering zelf. Probeer te kijken wat de waarden van de persoon, de afdeling, BU of organisatie zijn. Deze zijn namelijk de drijvende kracht (het waarom) van de bovenstroom. En om in de woorden van Simon Sinek te spreken: "People don't buy what you do, but why you do it".
Maar let op: een 'mindset' verander je niet (zomeer); probeer dit soort modellen dan ook niet te instrumentaliseren, maar als mindset mee te nemen in de overleggen en gesprekken. Stel jezelf en je omgeving af en toe de vraag of en waar de bovenstroom (juist het geïnstrumentaliseerde deel) afdrijft van de onderstroom; het belangrijkste hierbij is een open gesprek en zakelijk vertrouwen.
https://www.desteven.nl/leiderschapsontwikkeling/leidinggeven-aan-veranderingen/bovenstroom-onderstroom-organsiaties